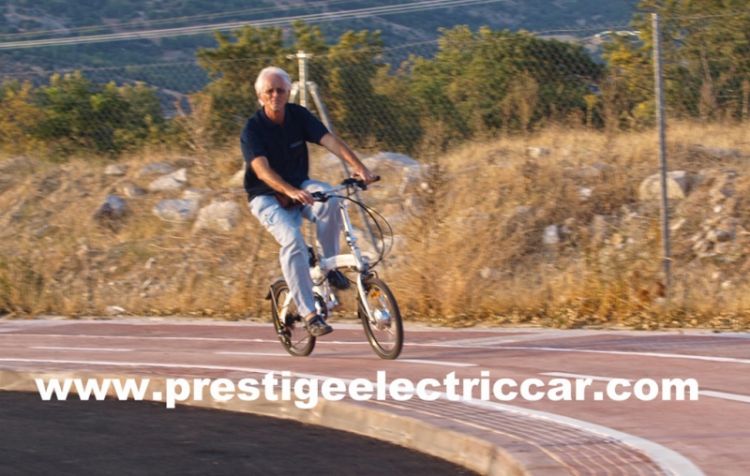 Contact
Manz Okopress, S.L.U.
Apartado de correos 3,
28400 Collado Villalba
Madrid, Spain
[email protected]
Contact form
Receipt eMail
About Us
The website PrestigeElectricCar (PrestigeElectricBike) was founded in 2011 by V. Christian Manz, journalist and historian, who has a long professional career by the most renowned Spanish and international car magazines. He wons several journalism awards. PrestigeElectricCar and PrestigeElectricBike present the culture of mobility, that can not be maintained in individualism without respecting the neighbor and the planet's resources. On this site we present the electric, hybrid and environmentally friendly vehicles from its history to present, but we specially give an emphasis to History, but also we will give the most relevant national and international informations, make reports of brands, models and places, trends and needs and we bring reviews and videos. We work with the idea of less is more, do not saturate the Internet with thousands of information copied from any site without checking its veracity, our motto is to offer news and features proven to be true, only in this way can maintain the honor of the journalist in the computer age.
It is the seventh and final attempt to introduce electric vehicles in bulk in all markets of the world, the monopoly of fuel is over, it's time to share the many existing and the still undiscovered energy sources for a better future. "The culture of mobility" implies a great responsibility towards the environment and respect for others and all beings on the planet.
Any company that shares these concepts should be present in prestigeelectriccar.com and prestigeelectricbike.com, for what we will offer spaces for banners and advertising.
Privacy Policy
1. DATOS DEL TITULO DEL PORTAL
Manz Okopress S.L.U (Prestige Electric Car y Prestige Electric Bike) con N.I.F B84875913 Con domicilio social en C/Santa Catalina, nº129 (28492) Manzanares El Real, Madrid.
Para cualquier consulta dirigirse a:
E-mail:
[email protected]
2. CONDICIONES DE USO
2.1.La Marca de Prestige Electric Car / Bike está registrada en la Oficina Española de Patentes y Marcas, rigiéndose según la ley 17/2001, por lo que su reproducción o modificación queda totalmente prohibida salvo permiso escrito.
2.2.Prestige Electric Car / Bike no se hace responsable de cualquier comentario expresado por los usuarios a través de las plataformas de Facebook, Twitter o Google+, que sea vejatorio, inmoral, veraz, inexacto o que atente contra el orden público o contra algún tercero.
2.3.Prestige Electric Car / Bike no se responsabiliza de los errores producidos en la página por problemas fuera de su competencia, incluyendo todos los subconjuntos o categorías que contiene el Portal.
2.4.El Directorio es un soporte meramente informativo y los datos ofrecidos a terceros han sido obtenidos de forma lícita a través de sus clientes y con su expreso consentimiento o a través de sus soportes públicos. Toda persona o empresa podrá eliminar esos datos de forma inmediata poniéndose en contacto con Prestige Electric Car / Bike a través de su email, teléfono o correo postal.
2.5.Los Derechos de Autor prevalecen en todos los textos e imágenes expuestos en el Portal, por lo que estará prohibido su reproducción total o parcial salvo permiso expreso del autor. Los textos e imagenes pertenecientes a terceras personas, serán ellos los que deberán velar por sus Derechos de Autor, ya que Prestige Electric Car / Bike no se hace responsable de la defensa de los Derechos de Autor de terceros.
2.6. Prestige Electric Car / Bike podrá utilizar la información proporcionada por los usuarios a través de "Contacto", ubicado en la Home de la página, y la información proporcionada en "Contactar", ubicado en las fichas de las empresas. Estos datos solo podrán ser usados en lo establecido en el apartado 3. Protección de Datos.
2.7.Prestige Electric Car / Bike enviara al menos una Newsletter al mes para informar de sus noticias o novedades. En cumplimiento de la ley de Servicios de la Sociedad de la Información y de Comercio Electrónico y de la Ley Orgánica de protección de Datos si el usuario ya no desea recibir dicha Newsletter solo deberá pinchar en la opción de no recibir más Newsletter o ponerse en contacto con Prestige Electric Car/ Bike.
2.8. El uso del portal Prestige Electric Car / Bike por parte del usuario, se dará por hecho que dicho usuario acepta sin reservas todas las condiciones generales que se mencionan en la Política de Privacidad.
3. PROTECCIÓN DE DATOS
Prestige Electric Car / Bike velara por el cumplimiento de la legislación Europea y Española sobre la protección de datos que se rige según la Ley 15/1999. Prestige Electric Car / Bike guardara todos los datos ofrecidos por los usuarios y clientes en su base de datos automatizada o no, y utilizara esos datos obtenidos solo para fines comerciales, informativos o publicitarios referentes a Prestige Electric Car / Bike.
4. POLÍTICA DE COOKIES
Las cookies son paquetes de información enviados por los servidores web a los navegadores web, y almacenados por los mismos. La información se envía de vuelta al servidor cada vez que el navegador solicita una página del servidor. Esto permite a un servidor web identificar y rastrear los navegadores web.
Hay dos tipos principales de cookies: cookies de sesión y cookies persistentes. Las cookies de sesión se borran de tu ordenador cuando cierras tu navegador, mientras que las cookies persistentes permanecen almacenadas en el ordenador hasta que se eliminen, o hasta que llegue su fecha de caducida
Prestige Electric Car & Bike solo cuenta con cookies de terceros:
GOOGLE: Prestige Electric Car & Bike utiliza Google Analytics para analizar el uso de su sitio web. Google Analytics genera información estadística y otra información sobre el uso del sitio web por medio de cookies, que se almacenan en los ordenadores de los usuarios. La información generada en relación con nuestro sitio Web se utiliza para crear informes sobre el uso de los sitios web. Google va a almacenar y utilizar esta información. Puedes consultar la Política de Privacidad de Google en: www.google.com/privacypolicy.html