The new waste collection vehicle of the German company
Quantron
AG was successfully tested - it was in operation without any restrictions, just like other models with diesel engines, with a daily 7 to 9 hour collection tour for distances of up to 85 kilometres. There was always sufficient residual energy available, and for recharging it only needed a 63A three-phase house connection with continuous load. The electric and therefore quiet rubbish truck is no longer a utopia; supply and demand are increasing and in the near future the nightly disposal of our affluent rubbish will be quiet.
The idea is not new, but the technology has never been as good as it is today.
As early as 1909 the German
Namag-Lloyd
built a two-axle electric tractor that could pull a long rubbish collector trailer, and thus quietly carry out the disposal in the cities by night. A little later Justus Christian Braun also offered a similar vehicle, based on an electric two-axle avant-train, which had two wheel hub motors in the front wheels. This pulled a large refuse collection vehicle from the Swiss manufacturer Ochsner with a front turntable, with 28 standard containers with a capacity of 50 litres each. The same vehicle was also available as a smaller one with a single-axle avant-train trailer and two little retractable support wheels at the rear.
The basic idea of the avant-train axle, including an electric motor and a battery box, was to convert the horse-drawn carriages into "self-propelled vehicles". The German company
Elite
therefore called its creations "the electric horse".

Avant-trains were also used in Paris, all of them by the Italian company
F.R.A.M
, electric vehicles that for years fulfilled their function as rubbish collectors and sweepers. The company established a branch with its own production in Paris as early as 1902, and in cooperation with
DeDion-Bouton
. The so-called Cantono system consisted of the axle, turntable steering, a battery box lying on the axle and a DC motor that drove the wheels of this complete front axle. All in one! Even then, noise reduction was an important issue. The vehicles were still in use after the First World War (1914-1918).
In England it was mainly the electric trucks of
Orwell Electric
from the company Ransomes Sims & Jefferies, which could also get a body as waste collector, the brand
Guy
, one of the pioneers in this sector,
Electricar
from London as well as the company
G.V. Electrics
, manufactured in Birmengham according to an American patent. These vehicles were used for mAny years in many British cities, from Scotland and Ireland, from the north to the south coast. Already at that time the rubbish was sorted out, the collectors had different closed boxes for various kinds of waste, anyway metal, glass, fabric and other things could be sold to small dealers before.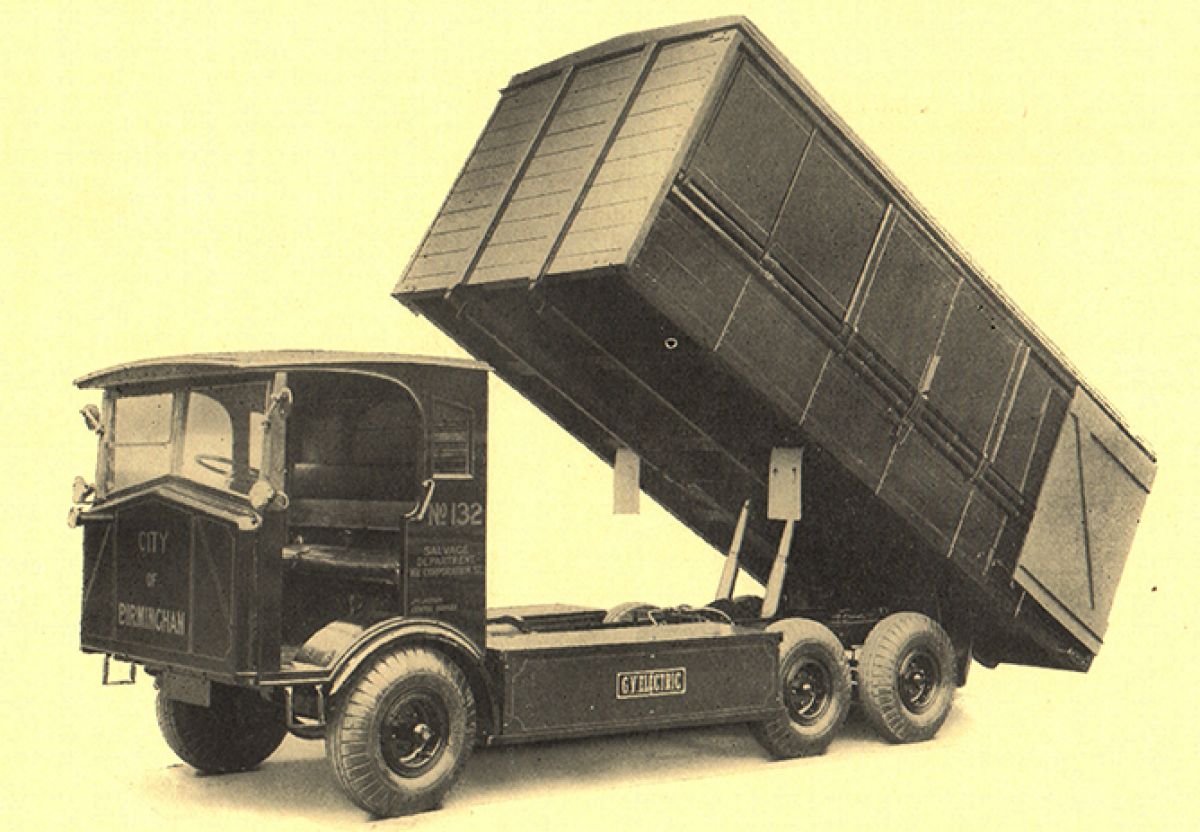 In the 1930s and 1940s, several hundred electric trucks from the German companies
AEG
,
Bleichert
,
Bergmann
, Maschinenfabrik
Esslingen
and others, with bodies designed as refuse collection and street sweepers, drove in Berlín and the surrounding area, a great advantage for the residents, whose oldest generation still fondly remembers these quiet vehicles.
In England, the company
Shelvoke & Drewry
developed various refuse collection vehicles from 1921 to 1991, including numerous electric models. The Freighter model, introduced as early as 1923, distinguished from other creation due to its low construction with small wheels, furthermore it did not have a steering wheel but a lever for steering.
Almost as old is the French company
Sovel
, a specialist in electric utility vehicles, which built thousands of electric vehicles between 1925 and 1977, including those for refuse collection. Its origins lie in the "Concours de Carburant National" held annually in Paris between 1923 and 1926 for electric vehicles and models with other alternative propulsion systems, with the state's ulterior motive of achieving less dependence on petrol and diesel. Sovel was subsequently set up by the Schlumberger banking consortium.
At the beginning of the 1980s, the French plant
S.I.T.A
. in París built its 18-36 Renault based model, one of the few electric trucks with a payload of over two tonnes. Several units were used as refuse trucks. With a 40 hp Leroy-Somer electric motor and batteries with capacities between 750 and 1050 amp hours, the vehicle achieved a range of 160 kilometres.
Since 2018, more and more electric refuse collection vehicles have been in use, specially in Switzerland. This year it is the city of Basel that has already received the first units. All of them rely on the services of the Swiss company
Futuricum
, trademark of Designwerk Products AG, which is now developing its quiet commercial vehicles, which are particularly efficient, together with the company Larag and its partner Volvo: In the stop-and-go operation when collecting waste, the powerful recuperating electric motors of up to 500 kW and the demand-oriented pressing operation ensure greater operational efficiency - the vehicles meet with a high level of acceptance among the population. Other values include a payload of up to 10.5 tonnes and a range of up to 570 kilometres thanks to two powerful 170 kWh batteries. Futuricum in its brand name gives a tribute to the Swiss electric car company Turicum, which sold its various models worldwide between 1906 and 1914.
The English company
Electra
was awarded the contract by the English city of Manchester, which intends to electrify most of its refuse collection vehicles. The task is to build models that are quieter and cleaner without restrictions on load capacity and range.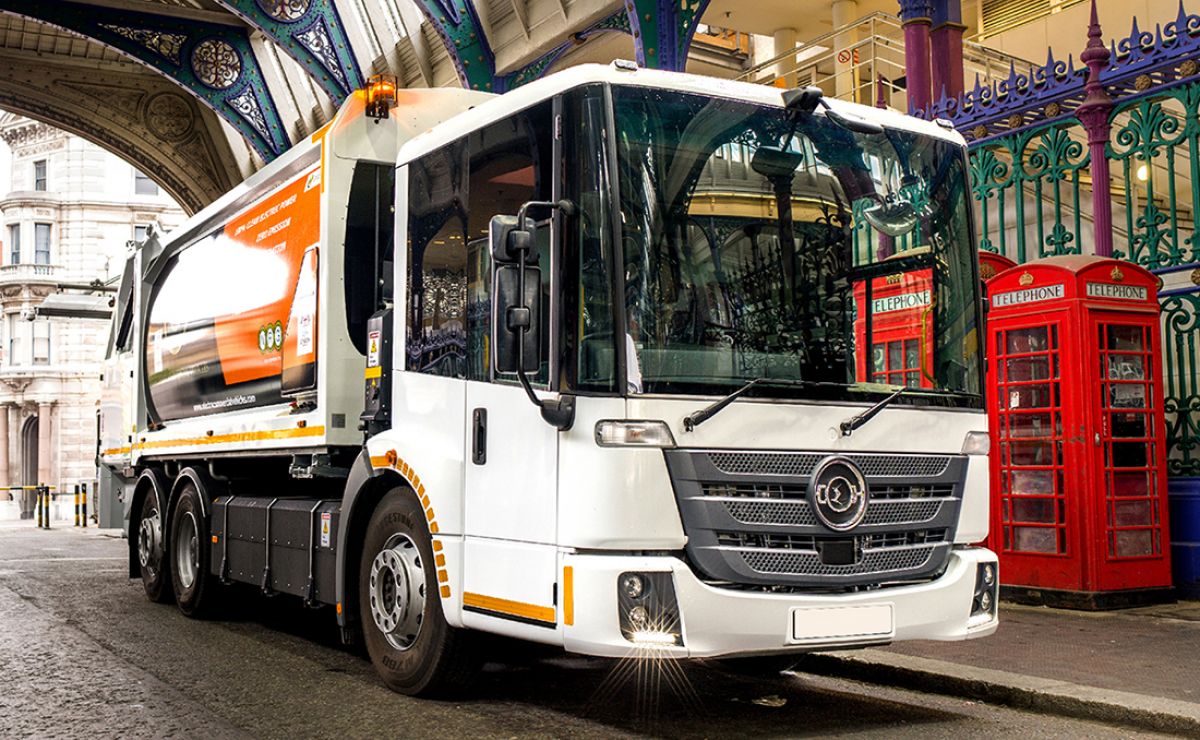 In August this year, the American start-up
Nikola
received an order for 2,500 chassis for its electric truck from the waste collection specialist Republic Services. This is a huge deal, as further orders of the same magnitude could follow.
Today, electric commercial vehicles with fuel cells and hydrogen propulsion are also being discussed and in some cases already undergoing trials; a combination with a very long history that has fallen behind and only recently has it once again been seen as the propulsion system of the future.
Der ewige Kreislauf - Die leise Müllabfuhr
Das neue Abfallsammelfahrzeug der deutschen Quantron AG wurde erfolgreich getestet – es stand wie andere Modelle mit Dieselmotoren ohne Einschränkungen Im Einsatz, mit täglicher 7 bis 9 stündiger Sammeltour bei Fahrstrecken von bis zu 85 Kilometern. Es war immer ausreichend Restenergie vorhanden, und zum Aufladen brauchte es nur einen 63A Drehstrom Hausanschluss mit Dauerbelastung. Das elektrische und somit leise Müllfahrzeug ist somit keine Utopie mehr; Angebot und Nachfrage steigen und in naher Zukunft wird die nächtliche Entsorgung unseres Wohlstandmülles leise erfolgen.
Der Gedanke ist nicht neu, denn elektrische Müllwagen gab es schon immer. Aber noch nie war die Technik soweit fortgeschritten wie heute.
1909 baute die deutsche Namag-Lloyd einen zweiachsigen elektrischen Schlepper, der einen langen Müllsammler-Anhänger ziehen konnte, und somit die Entsorgung in den Städten leise per Nacht erfüllen konnte. Wenig später bot auch Justus Christian Braun ein ähnliches Gefährt an, basierend auf einen elektrischen zweiachsigen Vorspannwagen, der in den vorderen Rädern zwei Radnabenmotoren besass. Dieser zog einen grossen Müllsammelwagen von Ochsner (Schweiz) mit vorderem Drehschemel, mit 28 Einheitsgefässen zu 50 Liter Volumen. Das Gleiche gab es auch als kleineres Gefährt mit einem einachsigen Vorspannwagen und hinteren einziehbaren kleinen Stützrädern.
Der Grundgedanke der Vorspannachse, ausgerüstet mit elektrischem Motor und Batterien, lag an der Ersetzung der Pferde an den Kutschen, die auf diese Art in Selbstfahrer verwandelt werden konnten. Elite nannte seine Kreation deshalb auch "das elektrische Pferd".
Vorspanner wurden auch in Paris eingesetzt, alle von der italienischen Firma F.R.A.M, Elektrofahrzeuge, die jahrelang ihren Einsatz als Müllsammler und Kehrmaschinen erfüllten. Die Firma etablierte schon 1902 eine Niederlassung mit eigener Produktion in Paris, in Zusammenarbeit mit dem nationalem Hersteller DeDion-Bouton. Das sogenannte Cantono-System bestand aus der Achse, Drehschemellenkung, ein auf der Achse liegenden Batteriesatz und ein Gleichstrommotor, der die Räder der Vorspannachse antrieb. Alles in einem! Damals war eben die Geräusch-Reduzierung ein wichtiges Thema. Die Fahrzeuge standen noch nach dem ersten Weltkrieg (1914-1918) im Einsatz.
In England waren es die elektrischen Orwell Electric der Firma Ransomes Sims & Jefferies, die einen Aufbau als Müllsammler erhalten konnten, die Marke Guy, einer der Pioniere auf diesem Sektor, sowie die Firma G.V. Electrics, hergestellt in Birmingham nach amerikanischem Patent. Diese Fahrzeuge standen in vielen britischen Städten, von Schottland und Irland, von der Nord- bis zur Südküste Englands im Einsatz. Schon damals wurde der Müll ausgesondert, die Sammler hatten verschiedene geschlossene Kästen für diversen Abfall, wobei sowieso Metall, Glas, Stoff und anderes schon vorher an Kleinsthändler verkauft werden konnte.
In den dreissiger und vierziger Jahren fuhren in Berlín und Umgebung einige Hunderte elektrischer Lastwagen der Firmen AEG, Bleichert, Bergmann, der Maschinenfabrik Esslingen und andere, mit Aufbau als Müllabfuhr und Strassenkehrmaschine, ein grosser Vorteil für die Anwohner, deren älteste Generation sich noch gerne an diese leisen Fahrzeuge erinnert.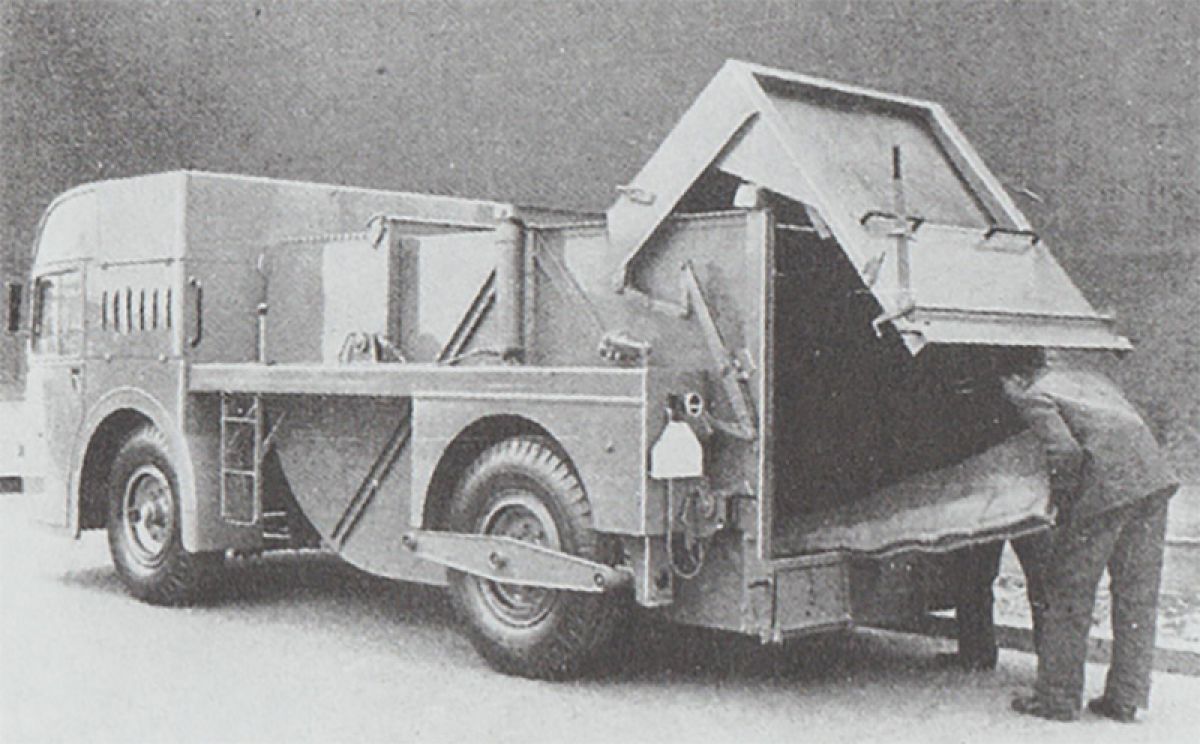 In England entwickelte die Firma Shelvoke & Drewry von 1921 bis 1991 verschiedene Fahrzeuge für die Müllabfuhr, darunter auch zahlreiche elektrische Modelle. Das Modell Freighter, schon 1923 vorgestellt, fiel durch seine niedrige Konstruktion mit kleinen Rädern aus dem Rahmen, ausserdem besass er kein Lenkrad, sondern einen Hebel als Lenkung.
Fast genauso alt ist die französische Firma Sovel, Spezialist für elektrische Nutzfahrzeuge, die zwischen 1925 bis 1977 Tausende von elektrischen Fahrzeugen baute, unter ihnen auch für die Müllabfuhr. Den Startschuss gab die zwischen 1923 und 1926 in Paris jährlich stattgefundene "Concours de Carburant National" für elektrische Fahrzeuge und Modelle mit anderen alternativen Antrieben, mit dem staatlichen Hintergedanken, eine geringere Abhängigkeit zum Benzin und Diesel zu erzielen. Sovel wurde daraufhin von dem Bankenkonsortium Schlumberger gegründet.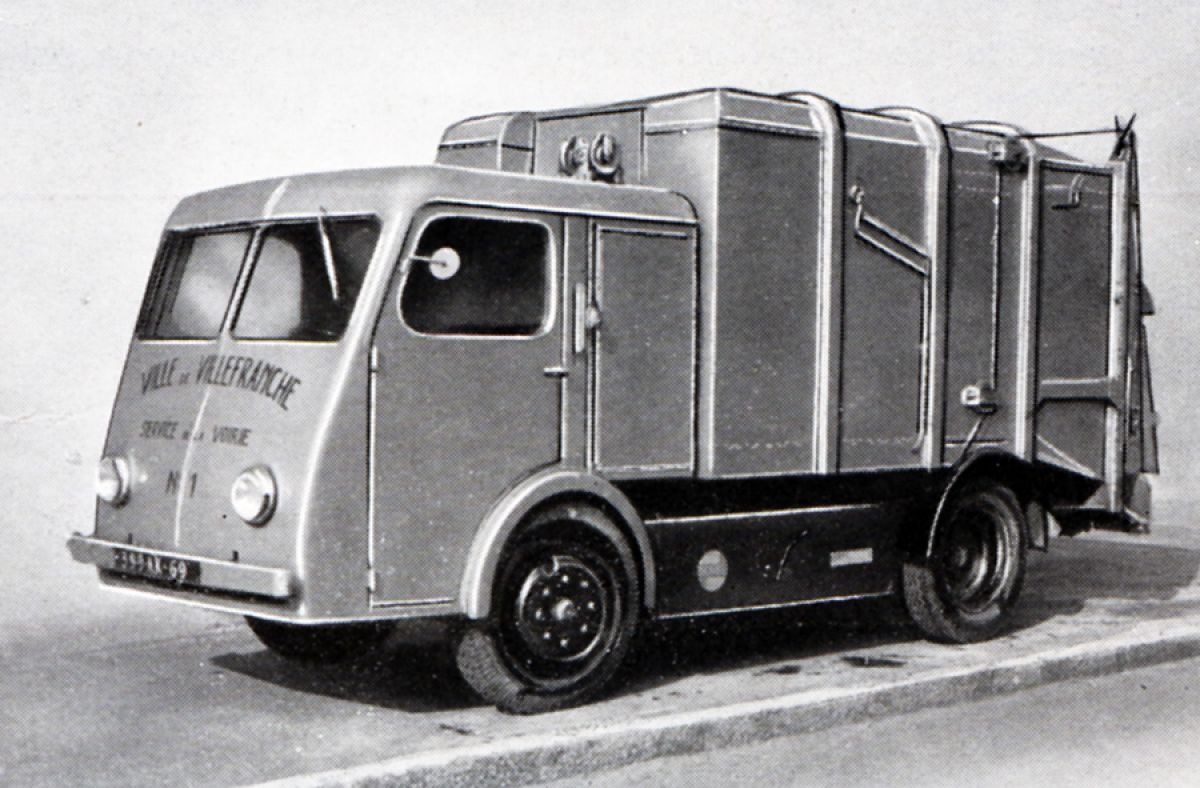 Anfang der achtziger Jahre baute das französische Werk S.I.T.A in París mit ihrem Modell 18-36 auf Renault-Basis eines der wenigen elektrischen Lastwagen mit einer Nutzlast von über zwei Tonnen. Mehrere Einheiten wurden als Müllwagen eingesetzt. Mit seinem 40 PS starken Elektromotor von Leroy-Somer und Batterien mit Kapazitäten zwischen 750 und 1050 Ampèrestunden erreichte das Fahrzeug eine Reichweite von 160 Kilometern.
Die englische Firma Electra hat einen Auftrag von der Stadt Manchester erhalten, die ihre Müllsammelfahrzeuge zum Grossteil elektrifizieren will. Die Aufgabe ist Modelle zu bauen, die ohne Einschränkungen bei der Ladelast und Reichweite leiser und sauberer sind.
Die Schweizer Firma Futuricum, die zusammen mit der Larag ihre leisen Nutzfahrzeuge entwickelt, weisst besonders auf die Effizienz ihrer Fahrzeuge hin: in dem Stop-and-Go Betrieb beim Sammeln von Abfällen sorgen die leistungsstarken rekuperierenden Elektromotoren und der bedarfsorientierte Pressbetrieb für eine höhre Einsatzeffizienz – die Fahrzeuge stossen auf hohe Akzeptanz bei der Bevölkerung. Und weitere Werte sind die Nutzlast von bis zu 10,5 Tonnen und eine Reichweite von bis zu 570 Kilometern.
Im August dieses Jahres erhielt die amerikanische Start-Up Nikola den Auftrag über 2.500 Fahrgestelle ihres elektrischen Truck von dem Müllabfuhr-Spezialisten Republic Services. Ein Riesengeschäft, denn es könnten noch weitere Aufträge gleicher Grössenordnung folgen. Das gibt den Startschuss für eine internationale Elektrifizierung unserer Müllwagen, die dann schlussendlich ziemlich geräuschfrei ihrer nächtlichen Tätigkeit, unseren Abfall zu entsorgen, nachgehen können.
Im Gespräch und teilweise schon in Erprobung sind jetzt auch elektrische Nutzfahrzeuge mit Brennstoffzelle und Wasserstoffantrieb; eine Kombination mit einer sehr langen Geschichte, die aber in letzter Zeit ins Hintertreffen geriet und erst jüngst wieder einmal als Antrieb der Zukunft tituliert wird.